An Afternoon of reJuicenation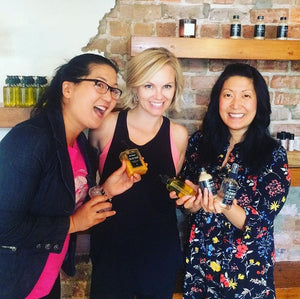 Sunday afternoon it was overcast, drizzling, and basically not what I had in mind for our summer launch party. But, hey, you can't control the weather, right? So we met up with North End Juice Co. and created our own sunshine at Cestlabree Studio. 
Our talented photographer, pal, and DJ for the day Bree Davis welcomed us into her space for an afternoon of reJuicenation. And for those of you wondering what it means to "reJuicenate" it's the combination of fresh-pressed juices, natural skincare, and fun photo booth props that leaves you feelin' good. 
Local makeup artists Phawn Lane and LaCretia Baskfield with their reJuicenate goodies
Channing from North End Juice Co. featured five of their signature juices for our guests to try while the team and I showed off our new summer line. We've been testing, creating, and questioning exactly what to present to our customers for summer, and we're pumped to finally have our six new products out in the open. In case you missed it, stay tuned for our online product release on May 2 just in time for Mother's Day!      
Drinking the rainbow with North End Juice Co. (left) Cestlabree Studio had the perfect setup for our products (right) 
Huge shout out and thank you to everyone in our squad who helped make this event happen and to all who attended even in the rain. We're feeling very loved and grateful to be part of such supportive community. You all keep us goin!
Sisters Seo Kelleher and Sarah Choi stopped by to stock up on new products
Teaching Amy from Superfun Yoga Pants how to apply her new product
Leave a comment
Comments will be approved before showing up.