Seasonal Skincare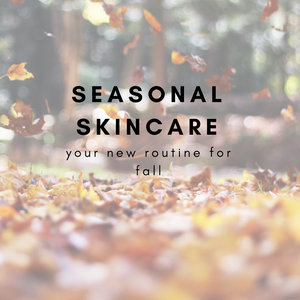 Now that it FINALLY feels like fall, it's time to transition our wardrobes and our skincare for the cooler temps. Your skin's needs are different during fall and winter than during the sweaty summer months, so we're sharing the tips to stay glowing during the changing seasons.
BE GENTLE: Cooler weather is the right time to switch your regular cleanser to a gentler wash like our Clarifying Nectar. This oil-based cleanser provides your skin with much needed moisture for the upcoming dry months. 
EXFOLIATE: If you're still experiencing dry skin, use an exfoliator like Purify to slough off dead skin cells for smooth, clear skin. 
MOISTURIZE: Most people experience more oily skin during the summer months, so as the pH and moisture levels of skin changes in the fall so should your moisturizer. We recommend switching from a lightweight formula in the summer to a heavier formula like Transcend Elixir. However, using a sunscreen is important year round. 
BONUS TIP: If you want to keep your healthy glow going try the Enlighten Luminous Skin Balm to your beauty routine!
Now, it's time to pull out our favorite sweaters and spend as much time in this glorious weather as possible! 
Leave a comment
Comments will be approved before showing up.