Get Outside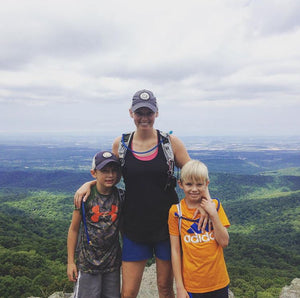 I recently posted this photo on Instagram (follow us @macssmack) sharing my love of trail running. Really, the whole family and I are big fans of hiking and the outdoors, and fall is such a great time to take advantage of the beautiful weather and changing colors of the leaves. If any of you are fellow outdoor lovers or want to try out a new route, here are just a few of my favorites:
North Bank | Buttermilk Trail - It's hard to beat how close by the great trails along the James River Park System are. The North Bank | Buttermilk trail as you know is one of my favorites for trail running, plus you get a great view of the water. 
Turk Mountain- This one's a family favorite. We always do a hike the day after Thanksgiving, and last year we trekked Turk Mountain. 
Pisgah National Forest- Pisgah is another family favorite from this year. We took a vacation to Asheville, NC this past spring and hiked the trails here. 
Humpback Rock- Just a short drive past Charlottesville near Staunton you'll find Humpback Rock. Such a rewarding hike with views like this at the end. 
We hope this gave you some inspiration to try a new hike or maybe revisit one of your old favorites. Are there any missing from this list? If so, we'd love to know your favorites too!
Leave a comment
Comments will be approved before showing up.