People We Love: Mahri Jones from Parlor Salon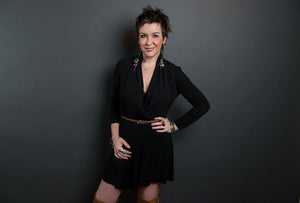 When you hear the word "maven" you may think of our favorite tinted lip balm from our summer collection, but I think of Mahri Jones from Parlor Salon. She's the ultimate maven, girl boss, and workin' mama to her beautiful daughter. I'm truly in awe of how she does it all. 
And of course Mahri and her beautiful daughter have the best hair! (photo by Ken Penn)
Mahri thrived working in salons from ages 16 to 20, but found herself working in the corporate world for a great company but a less than ideal role. Taking an introspective look at what truly made her happiest led to the answer: hair. 
"I was working for an awesome company doing something I hated. I knew I wasn't using the parts of my mind that were my best asset. Changes had to be made if I wanted to get where I wanted to be. I wanted to work in a profession that let me utilize the strengths I had gained in my corporate career, but also utilize the parts of myself, my brain, and my energy that made me feel full," she shared. 
Mahri found it important to create the right kind of space for her business, and we think she did a gorgeous job. (photo courtesy of Mahri Jones)
After attending school in Pennsylvania, Mahri moved back to Richmond where she opened Parlor in July 2014. You may recognize it from the storefront on West Broad in the Arts District. Even from the outside looking in you can truly tell that Mahri has made it a home away from home not just for herself and the Parlor team but for their clients as well. Gorgeous natural wood accents, mix and match chairs, and an accent wall in the same pattern as my favorite sweater make it one of my favorite spots in Richmond. Doesn't hurt that Mahri gives a bomb cut and color either!
Fresh cut flowers and skulls are a must have at Parlor.

(photo courtesy of Mahri Jones)
Mari said it "really was about 'creating a space' where a culture, education, and the craft [she loves] could thrive in a way [she] believed possible," and we gotta tell you she nailed it. 
We're pretty lucky that Parlor Salon is also one of our wonderful Mac's Smack retailers. You can find our products on the shelves along with Mahri's other must haves. 
  

This wall of products in pretty packaging is to die for! (photo courtesy of Mahri Jones)
"I relish in YOUR BEST SKIN Body Butter. I love the way it glides into my skin, gives it the perfect sheen all day, and I don't feel greasy. I may also be a bit obsessed with Glis-zen Shimmering Body Oil. I love the glow it gives. It rubs in dry even though it's a shimmering body oil. Pretty much you people are magicians," she said.
I'm so blessed to have this incredible woman not only as my stylist but a friend and member of the Mac's Smack good vibe tribe. If you haven't checked out Parlor Salon yet, head to their website or location at 115 W Broad St. and tell them we sent you!
Leave a comment
Comments will be approved before showing up.