Getting Glam with Lou Stevens Glam Squad and First Fridays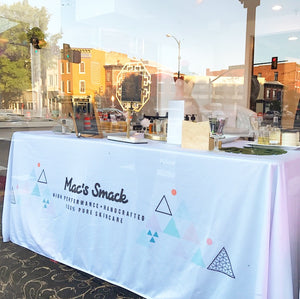 If there are two things we love, it's RVA and girl bosses. We combined those two loves and kicked off this past weekend with a pop-up shop at the Lou Stevens Glam Squad studio for RVA First Fridays. 
Lou keeps some of her favorite products on display in the studio. Her favorites are the Clarifying Nectar to remove even waterproof makeup, Flower Power, and Transcend Elixir for creating smooth, beautiful skin.
If you don't already know her, Lou Stevens started her business 27 years ago and over time expanded it into Lou Stevens Glam Squad with both in studio and on-location hair and makeup services and the Glam Squad Academy to share her knowledge with others. They've recently added haircuts and color to their menu too. Lou and the rest of the glammies expanded their studio a while back, and we were so excited to see the gorgeous new space updated with signature pink and gold touches. We took over the bridal suite, positioned our table in front of the huge picture window, and got ready for a night of glam! 
We love the picture windows at the Lou Stevens Glam Squad studio almost as much as people love looking in as they walk by.
While we were setting out bottles and positioning lip balm labels, Lou's team was breaking out their best lip colors, lining up false lashes, and preparing the cotton candy machine. Lips and Lashes was the theme of the evening, and guests shopped our collection while waiting in line. We loved the opportunity to share the Mac's Smack brand and products with them and some of the Glam Squad members, and we're looking forward to visiting the studio again soon! 
If you or someone you know is getting married, check out loustevens.com for your hair and makeup needs, and if you haven't taken part of RVA First Fridays yet make sure you take a walk down Broad Street the first Friday of August. 
Leave a comment
Comments will be approved before showing up.