March Favorites- A peek into MCP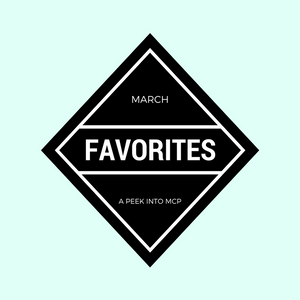 Happy April, Smackers... Smack Talkers... what should we call y'all? Shoot us some ideas! 
Anyway, March came and went so quickly it seems, but it brought so many wonderful things, so I wanted to share some of the favorites of the past month with you all today. 
My greatest obsession of the month has been summer. I know, I know it's barely even spring, but I'm jumping ahead and dreaming of tropical summer scents, windows open, and the relaxing sound of waves crashing on the beach. All my beach day dreams have been fueling my creativity for future products. 
I couldn't mention March without mentioning my food favorite of the month. Smoothie bowls from North End Juice Co. have been my kryptonite. Their charming customer service and delicious blends had me coming back not one, not two, but three days in a row. Yeah, they're that good. Getchu some and thank me lata!
This isn't exactly a "March" favorite, but I'm always enamored with women who are fiercely doing their own thing to make our community better. We had the opportunity to learn more about Boketto Wellness this month and check out the local vendors at The Brunch Market. Keep doing your thang girls! 
I took a small break one weekend and booked it to Charlottesville to feel reenergized and inspired by the mountains. As much as I love Hanover and all that Richmond has to offer close by, a change of scenery is always welcome too. While there, I spent time trail running, which is my favorite way to exercise. I feel very grounded and happy on the trails. There's not much to think about except the beauty surrounding me and watching my feet so I don't crash. It keeps me in the moment, which I love. 
That's really the favorite of all I think. I love that my life is wildly spontaneous and unregimented. With three children and a growing business, how could it not be, right? 
I feel incredibly grateful for the opportunities, support, and good vibes from March, and the rest of the Mac's Smack team and I are gearing up for an exciting month ahead. Thank you to our customers for your love and support. 
Leave a comment
Comments will be approved before showing up.