RVA First Fridays and #GIRLPOWER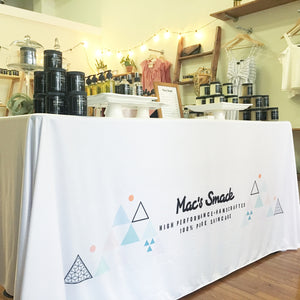 Welcome back! I've talked before about how important girl power and supporting fellow female entrepreneurs is to me and the Mac's Smack team. Which is why it felt extra special this Friday when we were invited to participate in First Fridays with mod&soul.
Jasmina, the owner of mod&soul, welcomed us into her beautiful boutique with open arms. I loved taking time to catch up with her, hear more about her new arrivals and styles in store, and gush over stories from her recent tropical vacation. Clothes, accessories, and skincare made for a night of girl time during the pop-up, and I'm so grateful to work with fun stockists like her.
Local vendors filled the corner of Broad and Monroe across the street at the Markets at Monroe. So basically we were inundated with community and creativity, and I LOVED it! I got the chance to finally meet with the owner of Maven Made and fellow skincare junkie Bethany and bond over our shared love of handcrafting our products. The local love didn't stop there, though. 
The Love This airstream caught my eye, and I chatted with its owner and fellow mama bear Rupa about her eco-friendly clothing and handmade accessories. It had only been a couple weeks since I last saw Olivia from Mud Love at The Brunch Market, but I always love catching up with her and seeing her new products. Amy from Superfun Yoga Pants was another featured vendor at First Fridays, and you know I couldn't resist meeting up with her for ice cream at Charm School afterwards to hear about her recent event Less Head, More Heart.
I say it all the time, but supporting other women and their businesses is so important to us at Mac's Smack. I know I couldn't do what I do every day without the ladies who continue to lift me up, carry me, love, and support me. I think it can be easier to see competition when others are thriving or creating similar products, but I encourage everyone to see it as an opportunity to learn and grow from one another. Embrace community and embrace some girl power because RVA is full of it.
Leave a comment
Comments will be approved before showing up.