People We Love: Phawn from The Beauty Lane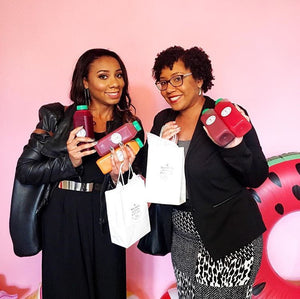 Chances are if you've seen girls around town with flawless spray tans or beautiful makeup, you know about Phawn Lane from The Beauty Lane. She provides professional, on-location makeup artistry for formal events and custom airbrush spray tanning. And we're lucky enough to call her one of our local business besties. 
Phawn Lane (left) and fellow local makeup artist La'Cretia Baskfield (right) at our reJuicenate event last month. You can read more about the event here.
Phawn says one of the reasons she loves her craft so much is because the learning never stops. "I'm constantly learning from other professional makeup artists, beauty enthusiasts, and even a thing or two from clients!"
She's taught us a thing or two too. If you follow her on Instagram (@_thebeautylane_), you may have seen her #MustHaveMonday post featuring our Transcend Elixir. I created this serum primarily to be used on the face to smooth fine lines and restore skin complexion, but since then I've found tons of other great uses for it and so has Phawn. 
This luxurious, lightweight, highly concentrated facial elixir is packed with superior vitamins A, E, C + Beta Carotene, antioxidants and fatty acids to preserve, hydrate and nourish your skin. Naturally increase cell turnover and restore your skins complexion.
"Transcend Elixir is a staple for my kit. As a professional makeup artist, I can testify that makeup can only look as good as the skin underneath. When dealing with dry, neglected, overactive oily or hungover skin, Transcend Elixir is one of holy grail quick fix skin products. It helps to balance the skin's natural oils as well as leave a beautiful natural glow on the skin. It's also multipurpose, as I have used it to thin out creams and liquid foundations, in addition to using it as a lip treatment. It's one of the most asked about products in my kit! It's amazing!"
If that doesn't tell you that this girl knows her stuff, I don't know what does! If you're looking for a makeup artist or airbrush spray tanning in RVA, check out thebeautylane.com and tell her Mac's Smack sent you! If you're interested in trying out Phawn's tips for yourself, you can pick up the Transcend Elixir here!
Leave a comment
Comments will be approved before showing up.